We've all experienced that time when we need to conduct a Google search but are stumped as to how to phrase our query. When language fails us, visuals serve as an excellent substitute. And Google now allows you to utilise both.
Using a new tool called "Google Multisearch," you can search for both photos and text simultaneously.
The feature is ideal for online purchasing and performing difficult searches that are difficult to express.
Google Multisearch is accessible in both the iPhone and Android versions of the official Google app.
Also Read
When and how to use In a Google Search I'm Feeling Lucky
Download Google Chrome for Mac, Windows, and iOS
Google Multisearch enables you to do image and text searches at same time
In the official Google apps, Google is beta testing a new feature called Multisearch. It's a game changer for everyone who struggles to locate the precise terms to use while doing web searches.
Multisearch enables you to search Google for an image and then narrow the search by adding text.
For instance, suppose you're buying and come across a clothing you really like, but you require it in blue rather than green. Take a photograph of the dress and then add the word "blue" to the search. Google will then locate you in your blue gown (or at least, dresses similar to it).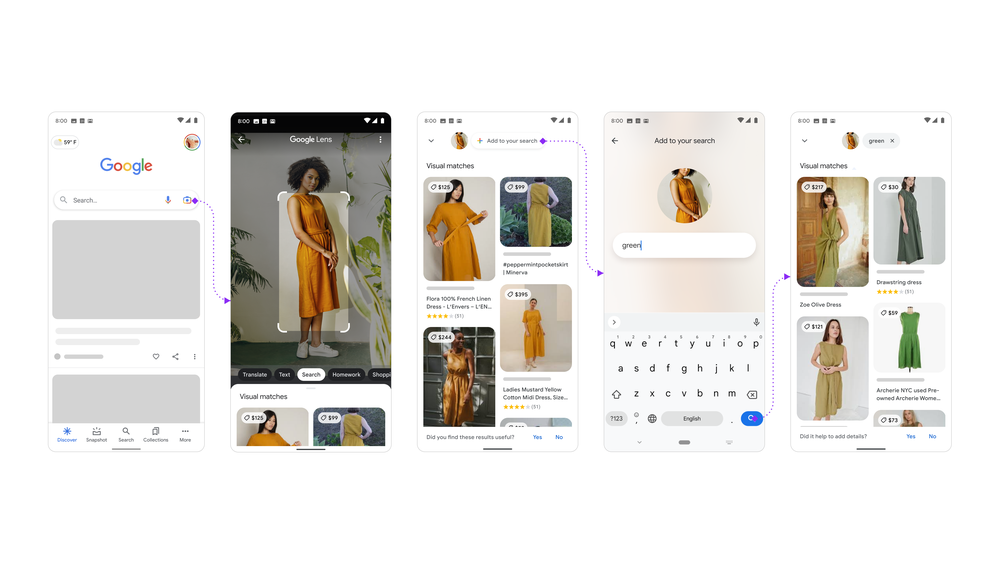 This is applicable to a wide variety of combinations. Take a photo of a smoothie and search for "healthy" to discover recipes for vegetable-based beverages. Both a picture of a car and the word "Honda" will bring up a list of Honda vehicles that match its appearance. It's an excellent technique to refine your online purchasing searches, even if you lack the necessary keywords.
The feature is accessible on both the iPhone and Android versions of the Google app. This is how to utilise it. This feature is still in beta testing and will likely not be available to all users immediately.
How to Use Google Multisearch to Do Image and Text Searches
In the bottom-left corner of the Google app, touch Home (iPhone) or Discover (Android).
In the Google search area, tap the camera icon.
This will initiate the camera's operation. Either take a photo of the item you're looking for or tap the symbol next to the shutter button to upload an image that's already saved to your device.
Swipe up to open the Visual matching menu at the bottom of your screen, then press Add to your search at the top.
Add more details, such as the brand or colour, and then re-search.
You'll be taken to a new search page with results that include both the image and text you searched.
Hi, I'm vijay dhanda, a tech enthusiast and blogger with a passion for computer and electronics. With years of experience in the field, I love sharing my knowledge and expertise with others through my technical blogs. Along with my love for technology, I'm also interested in games and health. Whether I'm writing about the latest gaming trends, new electronics gadgets, or sharing my health tips and tricks, my goal is to provide readers with valuable insights and information they can rely on. Hope you like the content I am writing and share your feedback.